Our first place painting: North Umpqua Narrows by Susan Rudisill

This painting was done at the ancient fishing grounds of the North Umpqua Narrows, where humans have chased salmon and steelhead for over 7000 years. At the peak of the spring run, fish were jumping like popcorn. The raw energy of the moment set the pace, and the drama of hooking, landing, and netting a fierce salmon is riveting. I had spent many hours here, sketching and painting today's community of fishermen and women, getting to know some of them in the process. Some families bring picnics and have small campfires on the rocks. Parents teach their children to fish, guys their girlfriends. Very elderly men are assisted by sons or grandsons. With the rugged geology of the narrow canyon as a backdrop, I felt that I could see back through time, sensing the presence of the first people whose village was just around the bend.
Susan Rudisill
Susan Rudisill is the winner of our Gamblin gift set.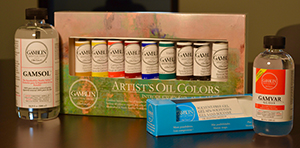 Gallery of selected artists who participated in the contest:
---
Thank you to all of our readers who submitted their Oregon-themed artwork! Your creativity inspires us!