written by Anna Bird | photos by Shauna Intelisano
---
Hector H. Hernández is an artist with a complicated canvas. The canvas itself is straightforward, but the process of attaining the slate involves a cumbersome, bureaucratic process. Hernández, 55, is a multimedia artist in Portland, known for his bold, culturally infused murals. Portland, however, has a tricky history with public murals, creating a tense relationship between artists, corporations and the local government.
Growing up in Mexico City, Hernández began when he was a toddler looking at walls as blank canvases. His first memory is his mom yelling, "No, no, no, you shouldn't be painting on the walls!" For professionals, however, mural painting was accepted and encouraged in Mexico following the Mexican Revolution. Government-funded murals were meant to help the country during a time of reconstruction and reunification. "(Murals) are the collective effort in which communities could reflect their identity and aspirations," Hernández said.
After apprenticing with some of the masters who emerged from the Mexican mural movement, such as Arnold Belkin and David Alfaro Siqueiros, Hernández studied social anthropology at a university in Mexico before pursuing a master's program in Japan. Japanese culture and art had long fascinated him, so he learned the language and got a Fulbright Scholarship to attend Sophia University in Tokyo. After five years, he realized Japan was not the place for him. "I was interested in cultural interaction, but I was more interested in cultural integration," Hernández said. "And it is very difficult to be culturally integrated in Japan as a foreigner."
To complete his master's degree, he chose an interdisciplinary program at Oregon State University, and it was there that he received his first commission for a mural in Oregon. He painted a piece in 1997 that depicted the aspirations of Latino-American people pursuing higher education in Oregon.
Around the same time, Clear Channel (then AK Media) sued the City of Portland. The advertising group claimed the city violated the law by favoring mural artists and banning billboards. To support its position, the company trotted out Oregon's constitutional freedom of expression amendment, which was: "No law shall be passed restraining the free expression of opinion, or restricting the right to speak, write, or print freely on any subject whatever; but every person shall be responsible for the abuse of this right."
A seven-year battle ensued regarding public spaces and who had the right to spread their messages across those spaces. Moving to Portland in 2000, Hernández got involved and advocated for murals and the implementation of a mural program. In 2005, the Regional Arts & Culture Council (RACC) put in place a public mural program. During those seven years, however, no murals were painted.
For Hernández, murals offer much more than a way to beautify neighborhoods and city streets. As an instructor in the Chicano Latino Studies program at Portland State University, art—especially public art—is a way to communicate social, cultural, historical and environmental issues.
"I use murals to develop my narratives," he said. "For me, it's an approach to develop narratives in which the images talk to each other to develop this story."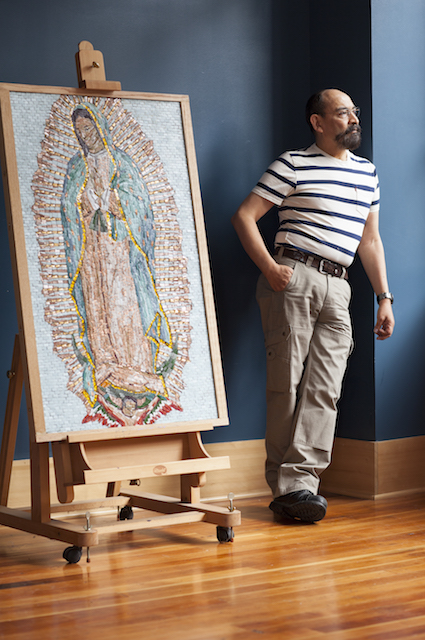 When he moved into a studio in Southeast Portland, he saw the side of the warehouse building and thought, "That's a very beautiful wall to paint." After getting permission from the owner, and going through the process for RACC's Public Arts Mural Program, Hernández painted the wall. Sixty-feet long and fourteen-feet tall, the piece is a colorful depiction of famous civil rights leaders, such as Martin Luther King Jr., Mahatma Gandhi and Susan B. Anthony.
Dozens of his stories now adorn the walls of buildings in the Portland metro and area. He also teaches a mural painting class at Portland State University.
In 2009, Hernández received a commission to do a mosaic mural and became intrigued by the mosaic process. When he's not talking with committees and neighborhood associations and RACC about his public murals, he is making mosaic portraits—depicting the likeness and expressions of his subjects with tiny pieces of glass and amber—or welding three-dimensional structures to continue challenging his mosaic skills.
The city's regulations for public murals are stingy, but Hernández understands they have to protect themselves against particular interests and agendas. To Hernández, it's not an ideal system, but it's something.
"My goal is to keep producing, and I will produce whatever I'm allowed to produce," Hernández said.