written by Lindsay McWilliams | featured photo courtesy of Hydro Flask
---
'Tis the season to pitch a tent, start a campfire and relax in a hammock under the stars. When you head out to camp this summer, rest assured that Oregon companies are looking out for your adventure needs.
Hydro Flask Insulated Beer Pint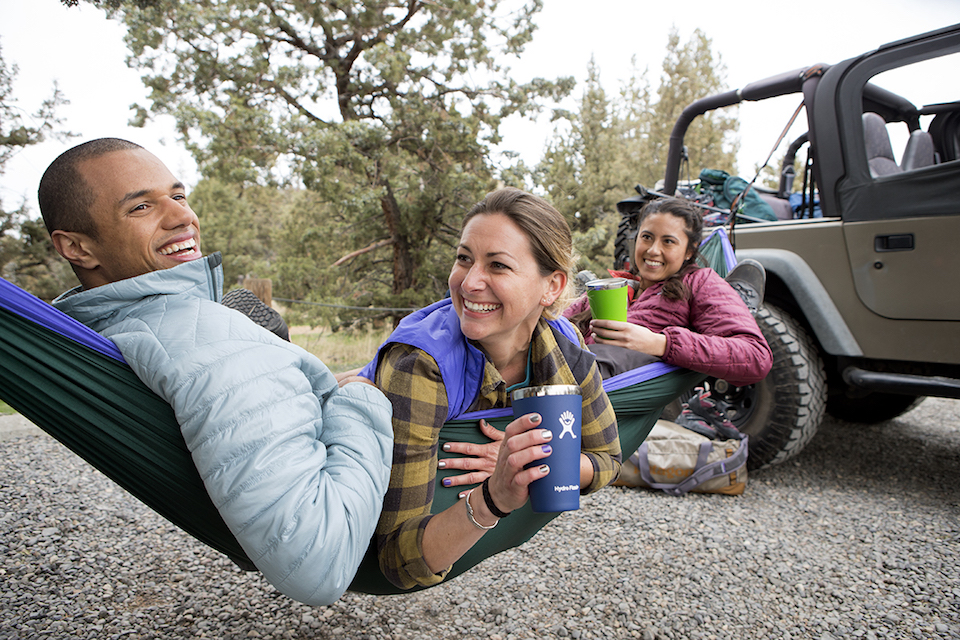 This stainless steel pint keeps your craft brew icy cold, even when the weather isn't. Durable and BPA-free, this product is camping-proof. It also comes with a lifetime warranty, which is never a bad thing.
hydroflask.com | $24.95
Skout Backcountry Trailbars
Skout's organic trail bars are easy to store or bring along for a day hike. They come in a variety of flavors such as Blueberry-Almond, Apple-Cinnamon and Chocolate Coconut. Plus, they accommodate most dietary restrictions—vegan, gluten free, soy and dairy free, non-GMO and certified organic.
skoutorganic.com | $2.49 each or $26.99 for 12
Dakine Party Bucket
The Dakine Party Bucket allows you to take the party with you on your next camping trip. Drop the insulated sleeve into a five-gallon bucket, fill it with ice and rage on (responsibly, of course). This contraption comes with a built-in bottle opener, built-in Koozies for beer and wine, and a water resistant snack pocket.
dakine.com | $55.00
Snow Peak FAL 2 tent
Snow Peak's lightweight, all-season tent boasts a set-up time of one minute, creating a quick shelter from the elements. The FAL 2 comfortably sleeps two adults and its small weight and size make it perfect for hike-to-camp trips.
snowpeak.com | $399.95
Poler Thermarest Slacker Double Hammock
Poler's take-anywhere hammock is the key to ultimate relaxation while camping. Its polyester composition can hold up to four-hundred pounds (perfect for snuggling with a buddy) and comes with two aluminum carabiners for hanging. The whole thing packs tightly into the side pocket, making it easy to transport to that secret spot with a breathtaking view.
polerstuff.com | $89.95
Cycle Dog Trail Buddy Treats
Bringing a furry companion along on your next outdoor adventure? Treat your pup to these grain-free, one-ingredient bites, made of chicken, beef or lamb. All of the meat for these products is consciously sourced from the United States and New Zealand.
cycledog.com | $8.00 for a 2oz packet
Field Guide to Oregon Rivers
Tim Palmer's book, Field Guide to Oregon Rivers, will bring outdoor inspiration to any camping expedition. Winner of the National Outdoor Book Award, the book explores Oregon's network of rivers from the perspective of an outdoor enthusiast. Palmer also gives his tips for the best places to hike, kayak, fish or raft along Oregon's rivers, so you'll never run out of things to do.
osupress.oregonstate.edu | $24.95