written by Brian Yaeger
---
To mark its thirtieth anniversary, Portland's Widmer Brothers Brewing celebrated the milestone by co-composing a series of collaboration beers with five fellow Oregon breweries. Among the collaborators was their kid brother, Deschutes Brewery in Bend, which is still one of the state's most veteran beer makers. Widmer's pre-Hefeweizen flagship, Widmer Alt, was mixed with Deschutes's pre-Mirror Pond workhorse, Bachelor Bitter. Then they aged it in whiskey barrels for good measure. The project demonstrates that while craft brewers are ostensibly competitors tussling for shelf space and draft lines in the same market, wort is thicker than water.
Brewers from the Widmer Bros. 5th Wheel collaboration. From left: Charlie Van Meter (who was then with Sasquatch and is now with Logsdon) and Tom Sims of Sasquatch; John Plutshack of Logsdon Farmhouse; Jack Beiting and Corey Blodgett of Widmer Brothers; and Jeff Tobin of Mazama.
Ben Dobler, a brewer at Widmer Bros, elucidated: "Some (collaboration beers) play on the strengths of one partner, some play on the strength of both partners, sometimes we take a big leap of faith and try something completely out of our wheelhouses."
A beer such as 5th Wheel exemplifies the latter. The dark farmhouse ale was brewed with cocoa nibs, cherries and brown sugar. If that wasn't enough of a mouthful, try naming all of the collaborating breweries involved in this one beer: Mazama Brewing (Corvallis), Solera Brewery (Parkdale), Sasquatch Brewing Company (Portland) and Logsdon Farmhouse Ales (Hood River County).
Dobler continued, "Collabs are fun—plain and simple. We get to be goofy, serious, technical, or just plain crazy and try something, anything."
Collaborative efforts are hardly the exclusive realm of the largest and eldest breweries. In Astoria, Fort George Brewery (est. in 2007) invites two compatriots to create the annual iteration of their 3-Way IPA. Past brothers-in-hops include Lompoc Brewing and Gigantic Brewing Company from Portland, Block 15 Brewing Co. in Corvallis, Boneyard Beer from Bend and Hood River's Pfriem Family Brewers. "We select breweries who take the joy and responsibility of brewing great beer to heart," said Ft. George's brewmaster and co-owner Jack Harris. "We pick breweries we can learn from."
Since the annual collaboration is always an IPA, "hop varietals are important," said Harris. "We also talk about alcohol (content), mouthfeel, body and color." No two 3-Ways smell or taste the same. Each year, the brewers pick out the hops as a collective group.
Sometimes partnerships result from longstanding friendships, and sometimes the breweries have a connection down to their roots. Even though Enterprise in Wallowa County is well over 300 miles from Bend, GoodLife Brewing's brewers made the six-and-a-half-hour drive to brew with the vets at Terminal Gravity Brewing this year. It felt like a homecoming for GoodLife co-owner Ty Barnett, since he is from the neighboring Wallowa County town of Joseph. GoodLife brewer Pat "Patio" Shea had also worked with Terminal Gravity's head brewer Frank Helderman ages ago.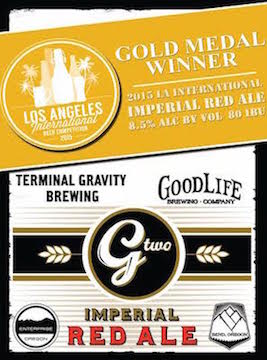 Ultimately, as Helderman said while making their collaboration imperial red ale, "We're just about the beer. That's the most important thing. If you don't have the beer you don't have anything."