Denny Edwards was an Evel Knievel-style daredevil in another era, but he's never given up his craft
written by James Sinks | photography by Timothy J. Gonzalez
Everyone loves a comeback story. And you can attract quite a crowd, it turns out, if your comeback involves launching a motorcycle 15 feet in the air over semitrucks.
Denny Edwards looked over his front wheel down the gravel runway between the gathered spectators, clustered on the sides of a pair of wooden ramps in front of McMinnville's Evergreen Air and Space Museum.
It had been more than thirty years since he zigzagged the Northwest, performing jumps on his 1966 Triumph motorcycle, entertaining crowds as "The
Flying Irishman."
Now, he was back. At 72, he's still got a mop of hair, but it's grey now.
He gripped the throttle and smiled inside his shamrock-emblazoned helmet. The bike rumbled beneath him. The years melted away.
There is a moment, Denny said, when you reach the top of a ramp at 60 miles per hour or more, and all you can see is blue sky. There is nothing else like it.
He hit the gas, and soared into the blue sky.
Denny wanted to make a living on the motorcycle circuit.
He initially assumed there would be ground beneath his tires. But when that didn't work, he aimed higher.
"In the racing business, you need to place first, second or third to get a paycheck," he said with a grin. "But if you jump? You can screw it up really bad and still get paid."
Denny grew up in Grand Ronde in a logging family. He made his first jump in 1972 in Brookings on the southern Oregon coast, trying to emulate his idol Evel Knievel. Kids came to watch.
"It turns out that jumping doesn't take a whole lot of motorcycle skill," he said, pronouncing it "motor-sickle." "It's just the big hole in the middle that keeps most people from doing it."
He started to perform at fairs and other events—promoters said he was a "poor's man's Evel Knievel" because he jumped for much less money. In an era before YouTube, folks would pour into grandstands to see a daredevil in real life.
He would set up his ramps, soar in the air on his this-heavy-bike-was-not-made-for-jumping motorcycle, and then conclude his act by smashing through a gasoline-soaked, flaming wooden wall.
"It happens so fast you don't feel anything," he said.
Needing a nickname, he chose "The Flying Irishman." He has some Irish in his gene pool, after all, but no Dutch. He wore a white leather jumpsuit to protect him if he went down, and a sparkly green belt.
For thirteen years, which included a few marriages, a litany of injuries and a cracked vertebra or two, he estimates he completed some 100 jumps. He even got a chance to meet Evel Knievel.
His last jump came in 1985 in Prineville. On the landing, he almost completely overshot the ramp, and his rear tire broke through. He put his boots down and the ground ripped the soles off. He lost all his toenails. He put the bike on its side, and broke a few ribs. But he still rode through the flaming wall, to cheers.
"This business is kind of like landing an airplane," Denny said. "If you can walk away from it, it's a good day. You can't get too picky."
The episode wasn't just hard on his ribs. It strained his family, so he decided to call it a career. He drove his Peterbilt log truck to pay the bills. And no, he laughed, he didn't try to take any jumps in his truck.
Today, he lives with his girlfriend on a grass seed farm outside Sheridan, just down the road from where he grew up. Meanwhile, his motorcycles were on display at the World of Speed museum in Wilsonville.
But he never lost the itch. Besides, the jumpsuit still fit.
Denny Edwards rides again
---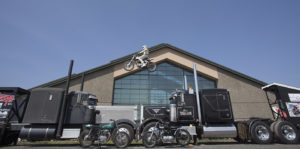 A singer always loves the microphone, he said—it's kind of like that. And, he reckoned, he wasn't getting any younger. Life will throw a lot of things at you, but it won't give you extra time.

"The golden years? That's when you piss the bed. That's the only golden part of it," he said. "Young or old, if you want to do something, you need to go do it. If you want to go jump out of an airplane, I don't care if you are 80 years old, go do it. If you want to go scuba diving with sharks or climb mountains or whatever you want to do, you need to go do it because this is really a short ride."

He started fixing his ramps.

Fifty-year-old Triumphs are not jumping bikes. Unlike dirt bikes, they have very little bounce in their suspensions. But, Denny said, he wanted to go full nostalgia for his comeback. The way it used to be.

"There's no substitute for a big buildup, the electricity in the air," he said.

His girlfriend, Carol de Jong, stood alongside the jump. "I told him I think he's a crazy S.O.B.," she said, which is pretty much what she's always called him. "But this is something that's always been part of him."

The crowd was abuzz. The comeback attempt attracted more than a thousand people. It was part circus, part classic rock concert and part motorcycle rally, with both wide-eyed grade schoolers and rows of Harley Davidsons parked near the shadows of decommissioned fighter jets.

The Flying Irishman arrived in a limo, in his white jumpsuit. He climbed atop the landing ramp and thanked his sponsors and the friends who came from as far away as Brookings, including some who were there for his first jump.

Then, he climbed onto his old bike, and with a throng watching for the first time in thirty-two years, he sped toward the ramp and into the blue sky.
It took only a second for Denny to soar 60 feet and clear two Peterbilt semitruck cabs. The crowd roared.

But the heavy bike was not forgiving. The jolt of the landing cracked a vertebra, and Denny knew it as soon as it happened. As soon as he braked to a stop, he put the bike down and fell with it. He beckoned to the waiting paramedics.

He jokes that it's a good party if you arrive in a limo and leave in an ambulance.

There was some conversation about submitting the jump to the Guinness Book of World Records, he said, but it ended up being too much hassle.

His jumping days are over, Denny said. The comeback was just too much for his girlfriend and family. And, yes, it was hard on his 72-year-old back.

So what's next? Nothing too risky, he said. He'll rebuild more antique Peterbilt trucks, and ride some horses.

And his ramps? "I put them up for sale," Denny said.

Next July in Butte, Montana, will be Evel Knievel Days, a motorcycle jumping and daredevil jamboree that pulls in people from darn near everywhere.

"If my ramps aren't sitting here," he said, "I won't be tempted."

Read about 16 more intriguing Oregonians