written by Elyse Kopecky | photos by Paula Watts
---
Oregon is a food lover's paradise and not just in Portland, but in every town across the state from our rugged coastline to our high desert countryside.
For the Bounty issue, 1859 interviewed chefs, farmers, ranchers and artisan producers to divine which one quintessential ingredient or dish best represents each of our seven regions. As we taste-tested our way across the state, one theme became clear: community is at the heart of everything we do best.
So come with us on a culinary tour of Oregon to discover the iconic foods that represent each of the seven regions of our delectable state. Then gather your neighbors around the table, make the recipes and celebrate Oregon's incredible bounty.
GREATER PORTLAND
---
Like honey bees to nectar, Portland attracts some of the world's greatest chefs. Ask ten of the city's best chefs what one ingredient rules the local food scene, and you'll get ten different answers: native salmon, strawberries, Dungeness crab, smoked trout, grass-fed beef, hazelnuts, mushrooms, the list goes on. One thing they'll likely all agree on is that, in this city, brunch rules the roost.
Chef Elias Cairo, cookbook author and co-owner of Olympic Provisions, said his favorite local brunch dish is eggs Benedict topped with smoked salmon or Dungeness crab. He envisions this to be the hearty dish that the loggers, farmers and fishermen who came before us ate. Cairo loves our modern-day brunch because it's "an all-day experience of coffee, Bloody Mary's, big plates of awesome food, and of course … a nap." (We couldn't agree more.)
If you don't have all day to dedicate to brunch, then there are plenty of lighter options (with shorter lines) around town. At nearby Tabor Bread, owner Tissa Stein bakes an impressive array of whole grain breads and wholesome treats, with local grains milled daily on-site. Stein's marinated kale sandwich recipe, which we promptly made at home, especially inspired us, and, of course, we had to top it with a fried egg from one of Portland's many backyard chickens.
Eat
---
Olympia Provisions
NW & SE Portland
olympiaprovisions.com

Tabor Bread
SE Portland
taborbread.com

Coquine
SE Portland
coquinepdx.com

HunnyMilk
NE Portland
hunnymilk.com
(Open Sat. and Sun.)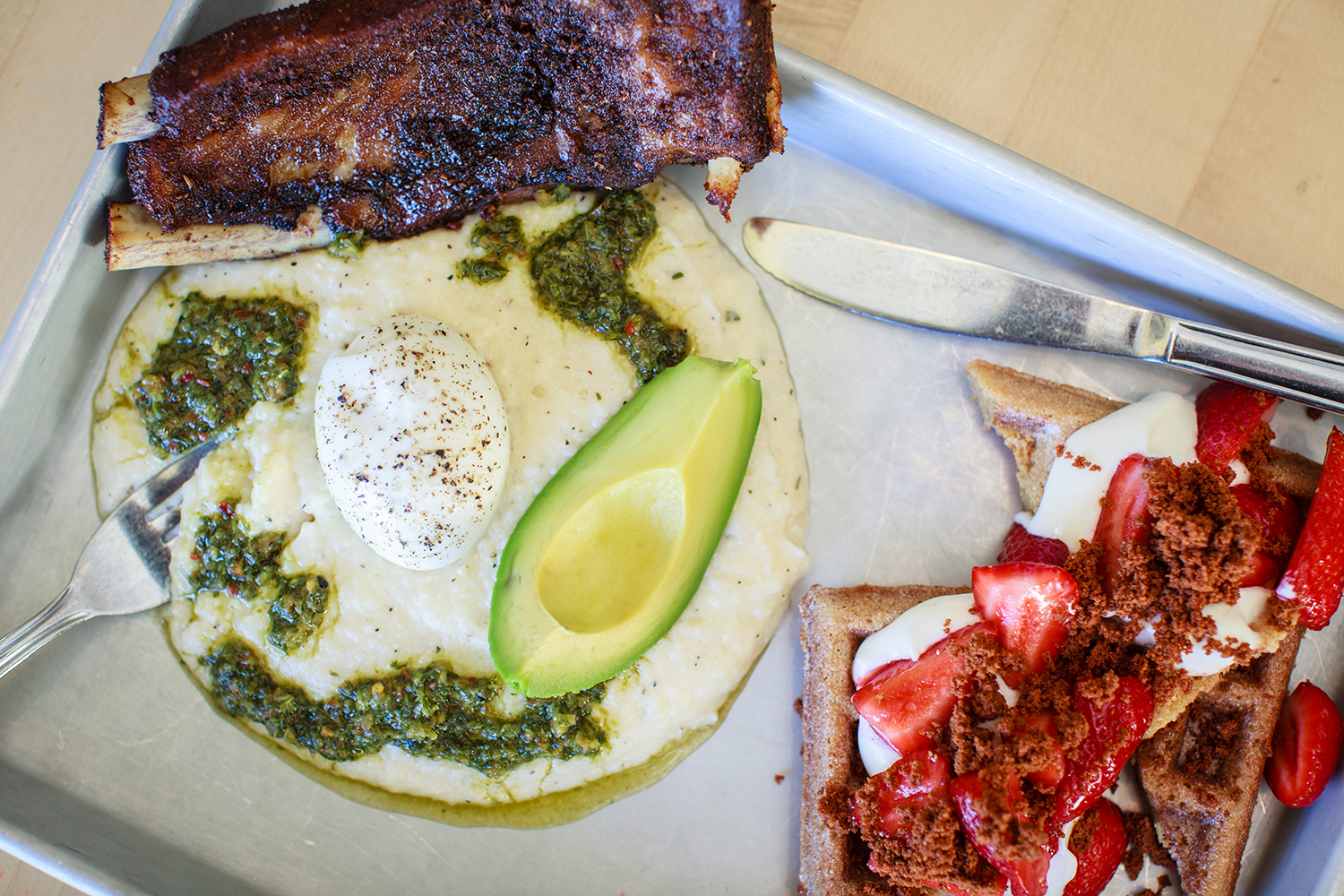 WILLAMETTE VALLEY
---
Take a scenic drive through the Willamette Valley, and you might feel like you're in a lush wine region in France. The valley has some of the most fertile farmland in the Pacific Northwest.
While this region is most famous for its pinot noir grapes and its wide range of awe-inspiring produce, however, berries and hazelnuts best represent this region. In fact, Oregon produces ninety-nine percent of hazelnuts in the United States thanks to the Willamette Valley.
Chef Cassie Van Domelen, co-owner of The Blue Goat, has a nostalgic attachment to these foods. "The smell of wild blackberries ripening in the sun takes me straight back to childhood. Growing up in the Willamette Valley, many long summer afternoons were spent with my brother, painstakingly picking berries in my grandparents' backyard," Van Domelen said "Grandma always said that if we picked enough, she'd bake a pie! My great uncle Ray would come by with bags of nuts he'd cracked. Filberts, he called them back then. I adored their distinctive, slightly coconut-y flavor. What better way to celebrate late Oregon summers than to marry juicy blackberries with crunchy hazelnuts?"
No recipe better combines berries and hazelnuts than a simple crumble. Top your crumble with Cassie's Hazelnut Cookie Crust, and you'll be booking your next weekend getaway to the Willamette Valley.
Eat
---
The Blue Goat
Amity
amitybluegoat.com
Recipe, A Neighborhood Kitchen
Newberg
recipenewbergor.com
The Joel Palmer House
Dayton
joelpalmerhouse.com
Nick's Italian Café
McMinnville
facebook.com/nicksitaliancafe
OREGON COAST
---
Three hundred and sixty-three miles of rugged coastline dotted with quaint fishing villages means endless opportunities to reel in a fresh catch. Seafood rules the Oregon Coast culinary style. We spoke to local restaurateurs, Leah Van Hook and Laura Anderson, and both agreed: albacore tuna is the one fish that represents the coast.
In Astoria, Van Hook's Bowpicker Fish & Chips has been successfully serving up the same one menu item—fish and chips—out of a retired fishing boat for sixteen years. This is not the run-of-the-mill heavily battered cod and soggy fries. The Van Hook family has perfected its top-secret recipe for lightly beer-battered albacore tuna. Van Hook said, "It's a lot of work to manage this little boat, but I couldn't be happier. We built our business simply by word-of-mouth and now we're honored to have won a lot of awards. We're lucky to be doing this together as a family."
In Newport, Anderson opened Local Ocean Seafoods eleven years ago and is proud of her restaurant's support of local fishermen. "The seafood on our menu comes from right across the street," Anderson said. "We purchase fish from sixty boats year-round."
Anderson grew up fishing alongside her dad who was a commercial fisherman. We asked her what dish reminds her most of her childhood. "We all grew up on tuna noodle casserole," she said. "Tuna canning supported many local families. The major canners have left, but many families are still canning their own tuna at home."
Anderson has since outgrown tuna casserole and now favors her revitalizing tuna recipes.
Eat
---
Bowpicker Fish & Chips
Astoria
bowpicker.com
Local Ocean Seafoods
Newport
localocean.net
Bread and Ocean
Manzanita
breadandocean.com
Driftwood
Cannon Beach
driftwoodcannonbeach.com

CENTRAL OREGON
---
Hiking, skiing, fishing, trail running, mountain biking, golfing … the opportunities for outdoor adventure in the high desert and mountains of Central Oregon are endless—and that means big appetites abound. When it comes to hearty cuisine, Central Oregon doesn't disappoint.
Chef Lisandro Ramón, owner of Brown Owl, calls Bend "Cow Town" and said a grass-fed burger is definitely the one dish that represents Central Oregon, especially since burgers pair heavenly with Bend's craft beers.
Chef Dave Bodi, owner of Bangarang, a food truck dedicated to sustainability, agrees and disagrees. "On the surface, Bend could be called burger country thanks to the abundance of sustainable grass-fed ranches, but there is currently a strong food movement that is happening here," Bodi said. "Our diligent and educated farmers are setting the bar high with eclectic and obscenely beautiful produce, and our chefs are seeking perfect products to transform into memorable dishes."
Memorable dishes we found. When we asked chef Justin Brown, owner of Kokanee Café in Camp Sherman, about the one dish that defines this region he said, "Our local farms, harnessing the water from the Cascades, are growing a wider range of products than we have ever gotten from this region before. That paired with our rivers—the Metolius, Deschutes, Crooked—gives us our identity." To Bodi, that means fresh trout-seasonal, stuffed and grilled—is the quintessential Central Oregon dish. It's worth making a trip to the Metolius River and Camp Sherman to experience this dish, or reel in your own fresh catch and try Brown's recipe at home.

MT. HOOD/THE GORGE
---
In the fertile foothills of Mount Hood, the local chefs and farmers agree that the one quintessential ingredient that defines their region is a perfect end-of-summer pear. In fact, Hood River is our nation's largest pear-growing region, exporting an impressive variety all over the world.
Even so, nobody can agree on the one must-try pear dish. We heard exclamations for poached pears, pear cider, pear salads, pear coleslaw, pear dumplings, pears on pizza, salmon topped with pear compote and more. Theresa Draper, owner of Draper Girls Country Farm, said she likes them best fresh as a snack or in salads. Then Draper called us back five minutes later and said, "You've got to try the pear dumplings from Apple Valley … and they have the best pear salad."
We asked Draper what she's most proud of about running her family's third-generation pear farm: "I'm most proud of being able to grow fruit for agritourism. Our customers come to pick flowers, apples and pears and to enjoy the lifestyle we loved as kids—but without the hard work! It's good to let people see where their food comes from."
SOUTHERN OREGON
---
Southern Oregon, with its rich agriculture valley, is a haven for farmers, vintners, cheese makers and food lovers. In a region that produces award-winning wines, grows a vast variety of pears, peaches, berries, and has beautiful vegetables in season year-round, it's difficult to distill the place down to one ingredient.
Chef Lynn Flattley, owner of Coquina, said, "It's really hard to define the one quintessential Southern Oregon ingredient. I think of all the berries, the wines, so many incredible products … of course, David Gremmels' amazing cheeses—he put this tiny little town on the map."
We had to agree. When we think of Southern Oregon we dream of sinking our teeth into a wedge of Rogue Creamery cheese, so we went straight to the source and spoke with David Gremmels, the president and cheesemaker of Rogue Creamery. Gremmels's description of the region, the local ingredients, the incredible restaurants and the dedication to sustainability was enough to make us want to pack up and move south.
We asked Gremmels what food best represents the region and he didn't hesitate. "The Rogue River Blue Cheese encompasses and embodies our region. The cheese is made from beautifully rich milk from our own farms," Gremmels said. "It's wrapped in syrah grape leaves from Cowhorn Vineyard, soaked in pear brandy from Clear Creek Distillery and aged until the rind turns into a golden hue. The flavor is rich with grass notes, straw notes, mushroom notes and chocolate notes—a lot of the flavor in the cheese is created by the soil. You can just close your eyes and imagine the Rogue Valley by the complex flavors."
Lucky for us, chef Flattley shared with us her blue cheese tart recipe, a favorite appetizer of Gremmels. This dish has been on the menu at Coquina since it opened (and for good reason).
EASTERN OREGON
---
Farm-to-table dining in Eastern Oregon beckons beef as the centerpiece of the meal. After all, this is cowboy country, where herds of happy cattle roam free on the open range. In a trip to Eastern Oregon, you can stock your freezer with some of the most flavorful and nutritious beef in the country.
"We provide food that is good for the land, good for the consumer and good for us, as producers," said Liza Jane McAlister, owner of 6 Ranch in Enterprise. "When I was growing up, my family had a tradition of Sunday night burgers. Friends and neighbors would just show up. My mom would keep making burgers until everyone was fed."
What intrigued us most about 6 Ranch is its "always open" farm stand on the main thoroughfare between Lostine and Enterprise. McAlister's heartwarming stand came into existence after she had the opportunity to attend Slow Food Terra Madre in Italy.
"Highway 82 runs through the middle of our ranch. We watch so much of the food we raise here being trucked out. It was challenging for the people who live here to access the food raised here," McAlister said. "So, in 2011, we built a farm stand on our ranch that we stock with our grass-fed beef, lamb, eggs, honey and produce. It is open twenty-four hours per day, seven days per week to serve the local community."
We begged McAlister to share her family's coveted burger recipe and were surprised to learn it's a dish that requires no written recipe. Because the beef is so fresh and flavorful, her family adds no fillers or seasonings to the meat (not even salt).
The 6 Ranch burger can be found on the menu at Terminal Gravity Brewery, the sought-after watering hole for locals and tourists. Terminal Gravity represents the spirit of the Wallowa Mountains with its local-ingredient driven menu and refreshing IPAs. Simplicity at its best.