Foodie destinations around the state
written by Kevin Max, Sheila G. Miller & Jen Stevenson
Maybe you're like us―at breakfast on vacation, you're already planning your next meal. Oregon is nearly 100,000 square miles, and there are bountiful crops and delightful restaurants in every corner. We picked some spots you're going to want to check out—whether you're looking for a down-home old-timey cafe, a fancy big-city feast, or a chance to improve your cooking chops.
Portland's Fine Dining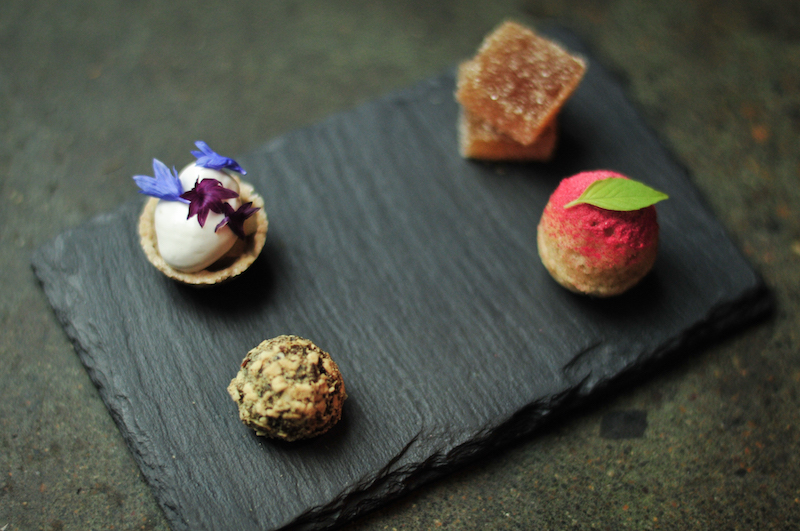 Portlanders pride themselves on being as casual and unpretentious as they come, but that doesn't mean they don't know how to gussy up and have a night on the town, complete with white tablecloths, wine pairings and break-the-bank-worthy tasting menus. Plan on being early to your reservation at uber-talented chefs Will Preisch and Joel Stocks' modernist gem Holdfast Dining, because it shares a wall and kitchen with star bartender Adam Robinson's exceptional craft cocktail bar Deadshot. A next-door before (and after) dinner drink is mandatory.
Two blocks up the street, Willow's charming chef-duo Doug Weiler and John Pickett embrace the motto "Come over to our house for dinner." By the end of the six-course tasting menu—served at the cozy bar overlooking the small, open kitchen—when you're invited to linger in the restaurant's living room, you'll feel like moving in. Just on the other side of Ladd's Addition, step into Castagna's carefully composed dining room and splurge on six-time James Beard Award-nominated chef Justin Woodward's sublime 13-course modernist chef's tasting menu, as visually striking as it is palatable.
A half-mile northwest, savor the hyper seasonal vegan tasting menu prepared right in front of you by Farm Spirit chef Kei Ohdera and crew, who dish delicacies like salt-brined celtuce and pinot-noir-braised creminis to a packed bar of fourteen, twice nightly. For a slam dunk supper at what remains one of the city's top tables twelve years in, book seats at chef Gabriel Rucker's petit East Burnside bistro Le Pigeon. If you don't make the Saturday night cut, just go next door to Rucker's no-reservations newbie Canard, Le Pigeon's more casual, but no less culinarily ambitious sister spot.
There's always magic in the air on Broadway, so the song goes, but you'll really believe after a meal at chef Trent Pierce's recently revived Roe, a hidden downtown temple of butterfish sashimi in truffled white soy ponzu and cardamom- roasted lobster with smoked grapes. Score a nightcap at nearby Multnomah Whiskey Library and it's offcial—you're living, eating and drinking the Portland high life.
North Coast Food Trail
From Cannon Beach and south to Lincoln City, the North Coast Food Trail covers miles of forests, farms and seafood havens. Picture venues such as the Cannon Beach Farmers Market hawking fresh chanterelles and Dungeness crabs pulled from Kelly's Brighton Marina at Rockaway Beach, a rosemary gouda from the Nestucca Bay Creamery in Clover and the Culinary Center in Lincoln City, all bound by local bounty.
Founded in 2018, the North Coast Food Trail brings together a foodie's itinerary across a swath that includes farms, flowers, foraging, fisheries, restaurants and retail shops. At www.northcoastfoodtrail.com, you can find hotels, tours and the participating farms and retailers mapped for convenient itinerary planning.
Don't forget to bookmark the Crave the Coast Festival next September, when fishers, farmers, brewers and cooks from local markets of the North Coast Food Trail come together under tents in Garibaldi to celebrate the diverse bounty of the region.
Food Festivals
Oregon's bounty is unparalleled in several ways. Chief among them is that Oregonians love to celebrate the state's food and drink in festival settings. Here are a few of our favorites.
Feast Portland: First, the big guns. Portland being a foodie's paradise, it's this festival each year that delights people from around the Northwest with its daily grand tastings, chef competitions, a dinner series spread around the city, even classes to help you bring the festive spirit home. In 2018, the event featured an '80s-'90s-themed chef competition, Sunday tailgate and brunch, and a night market. Bonus: Each September weekend raises tens of thousands of dollars to help food-related charities. (www.feastportland.com)
Oregon Truffle Festival: Pick from one of four experiences—The Epicurious, The Gourmand, The Truffle Growers All-In Adventure, or The Urban Forager—or pick from à la carte events like the Grand Truffle Dinner, a six-course meal featuring native black and white truffles and Oregon wines. Dog lover? Check out The Joriad North American Truffle Dog Championship. (www.oregontrufflefestival.org)
Newport Seafood & Wine Festival: Rounding out the big guns is the Newport Seafood & Wine Festival. Think the coast in the winter isn't ideal? Every February for forty years, this coastal town has pulled out the big tent (literally) for hundreds of seafood and wine vendors at this four-day festival. There's a wine competition and after-hours parties to keep the fun going. (www.seafoodandwine.com)
More Festival Favs: If you're more of a small-town, single-food fest seeker, Oregon has those, too. If you revel in all things garlic, try the North Plains Elephant Garlic Festival, held annually in August (www.funstinks.com). Or try the Lebanon Strawberry Festival, entering its 110th year in 2019. This small-town festival features the world's largest strawberry shortcake (www.lebanonstrawberryfestival.com).
Revel in small-town tradition with help from the Royal Order of the Golden Strawberrians and the coronation of the Strawberry Festival Queen. Finally, swing over to the Mount Hood Huckleberry Festival and Barlow Trail Days in August for watermelon launches, a salmon bake and plenty of huckleberry jam—the event is held in a living history village in Rhododendron. (www.cascadegeographicsociety.com)
A Foodie Education
Maybe you want to perfect your own skills instead of enjoying a top chef's interpretation of soul food. No matter where you live in this state, you can improve those knife skills and learn to cook that complicated recipe you've been wanting to try.
Cascade Culinary Institute
Bend | 2555 NW Campus Village Way
www.cascadeculinary.com
In a town known more for bikes and beer is the hidden gem of talented culinary staff at Cascade Culinary Institute at Central Oregon Community College. It offers associates degrees in applied sciences and certificates for culinary arts, baking and pastry arts and hospitality.
Oregon Coast Culinary Institute
Coos Bay | 1988 Newmark Ave.
www.occi.net
Culinary learning in a year-long associate degree program on the Oregon Coast. Located in Coos Bay on the campus of Southwestern Oregon Community College, OCCI combines surf and turf.
Oregon Culinary Institute
Portland | 1701 SW Jefferson St.
www.oregonculinaryinstitute.com
The Oregon Culinary Institute is a locally owned and operated school with a student-run fine dining room for hands-on training. With degrees in Culinary Arts and Baking & Pastry, and an option for weekend-only classes, OCI is a favorite of many working professionals looking for a career change.
Cooking Classes
PORTLAND
Portland's Culinary Workshop
807 N. Russell St.
www.portlandsculinaryworkshop.com
Three-hour hands-on classes on everything from pickling to pastries and Panang.
$: $65-$85 for adults; $45 for kids 12 and younger
The Kitchen at Middleground Farms
Wilsonville | 4651 SW Homesteader Road
www.middlegroundfarms.com
The best way to learn is to go to the source. At Middleground Farms in Wilsonville accomplished chefs teach classes on cooking with apples to tapas and baking.
$: $80-$180
EUGENE
Inspired Tastes
4383 N Shasta Loop
www.inspiredtastes.com
Le Cordon Bleu-trained personal chef Shelly Shirk offers classes on sauces, Mexican cuisine, Indonesian and now cooking with an Instapot on Fridays and Saturdays.
$: $50
SALEM
Willamette Valley Kitchen Co.
333 Chemeketa St. NE
www.willamettevalleykitchenco.com
Rustic Portuguese to Japanese ramen, Peruvian favorites and holiday appetizers are just a few classes offered under chef Amy Church.
$: $25-$50
BEND
Kindred Creative Kitchen
525 NE Twin Knolls Dr., Suite 2
www.kindredcreativekitchen.com
Done in a four-week series or individually, the Cook Like a Pro classes at Kindred Creative Kitchen bring the talent of Michele Morris to the fore as you learn braising, baking, grilling and other techniques.
$: $200 each
CANNON BEACH
EVOO
Cannon Beach 188 S. Hemlock St.
www.evoo.biz
The ultimate coriander-infused dinner show with celebrity chef Bob Neroni and wife, Lenore Emery-Neroni. Learn Italian and French classics, along with wine pairings in this passionate cooking show in beautiful Cannon Beach.
$: $89-$149
JOSEPH
Lynne Curry
www.lynnecurry.com
In the bounty basket of northeastern Oregon, author of Pure Beef and chef Lynne Curry hosts monthly group dinners with cooking instruction on select Saturdays in the cool new Jennings Hotel. Local produce and meat in this setting are a fantastic culinary reward.
$: $65
Old-School Oregon
You say you're looking for a little local flavor? The kind of spots that have been around a lot longer than that hipster has even had facial hair? Look no further. In Portland, it's an embarrassment of riches. Besaw's has been around for more than 100 years, and even if it recently moved into a new location in Northwest Portland, it's still a must for brunch. Turkey fan? Head to Huber's, which has been quietly filling bellies with hot turkey sandwiches in downtown Portland since 1879. It added its epic Spanish coffees later, but those are worth a sip as well.
Jake's Famous Crawfish has been around nearly as long and still feels fancy. Speaking of fancy, the RingSide Steakhouse on Burnside has that low-lighting, white-tablecloth thing dialed in—plus, onion rings. If you're seeking something a little less formal, swing east to Troutdale for some dumplings—Tad's Chicken'n Dumplings started as a roadhouse on the Columbia River. It still is, and it still serves stewed chicken, dumplings and gravy the way it did in the 1940s.
In Central Oregon, start in Bend at the Pine Tavern. Founded in 1936 overlooking the banks of Mirror Pond, it catered to the mill workers of the day. Since then, it's changed owners several times but never closed. There are two large Ponderosa pines growing out of the main dining room and it's got a killer happy hour. Next, swing over to Prineville for a stop at the Tastee Treet. Opened in 1957, this little spot across from the iconic courthouse has a tiny counter filled with locals, a neon sign and some of the best ice cream you'll find around these parts. After dessert, settle in for burgers, or if it's too early in the day, biscuits and gravy.
If you find yourself hungry for breakfast in Southern Oregon, the Powderhorn Cafe is your must-visit. This Grants Pass favorite has been locally owned and operated since 1987, and in addition to breakfast, Powderhorn is known for its top-notch pies, from sour cream lemon to Almond Joy to black-bottom peanut butter. When breakfast is digested, swing to Omar's in Ashland for a steak and a cocktail. The first public cocktail lounge in Ashland, this neon-lit spot opened in 1946 and specializes in seafood, steaks and the old-school ambience we seek.
And if there's still room left, scoot over to Jacksonville for a little something at the Jacksonville Inn. The entire town is a National Historic Landmark and the circa-1861 restaurant's walls are made of locally quarried sandstones with flecks of gold visible. That's just the walls—this is a true fine-dining establishment with an extensive wine list and locally sourced ingredients. Finally, the last bastion of old-school Oregon—Eastern Oregon. Haines Steakhouse in Haines has eight-point bucks mounted on the wooden walls, T-bones and smoked brisket on the menu, and a centerpiece giant covered wagon full of salad bar fixings for your appetizer.
There's no shortage of good steakhouses in eastern Oregon. Virgil's at Cimmiyotti's in Pendleton has been around since the 1950s, though it closed in 2005 and was reopened four years later. Steaks, seafood and a decent cocktail are the name of the game here. For something completely different, head to the Blue Banana in Lostine for a photo op with the bright blue VW Bug crashed into the side, and choose from one of the coffee shop's dozens of drinks. Then visit Dayville Cafe in, you guessed it, Dayville for a simple, tasty homemade lunch on the way to the John Day Fossil Beds.