Oregon's ten best romantic escapes
written by Sarah Max
We're looking for updates to this list! leave your thoughts in the comments!
---
Forget about the drugstore greeting card, February 14th dinner reservation and other Valentine's Day clichés. A better idea: Pack your bags, grab your sweetie, check in at one of Oregon's great lodges, inns or cottages – and check out for the weekend on an Oregon romantic getaway. We put together these ten sweet escapes to suit any whim. Feeling nostalgic? Spend a weekend savoring vintage Portland. Got the winter blues? Give yourself a good dose of Pinot therapy (in every sense of the word) at a world-class inn and spa in wine country. Just need a change of scenery? Make yourself at home in a luxury condo in the Gorge, an artsy suite in Jacksonville or a cozy cottage in downtown Bend. And if your intentions are great, but your budget is small, not to worry. Hot springs, coastal yurts and moonlit ski outings can be yours for less than what you'd pay for a dozen roses.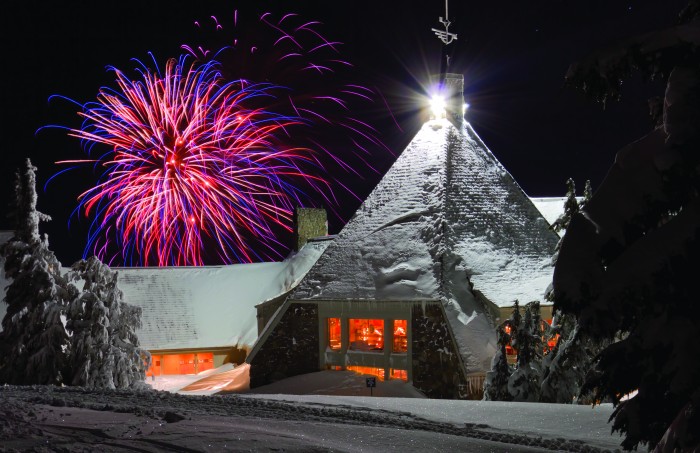 Best Oregon romantic getaway: Va-Va Vintage Portland
STAY: HOTEL VINTAGE, PORTLAND
---
WHEN: History buffs should plan to go before February 12. Music lovers, time your trip for the Portland Jazz Festival, February 17 through 26.
Portland has more than its share of sexy boutique hotels, but this downtown gem is one of the most romantic in our book. We're suckers for history, and Hotel Vintage Portland (rooms starting around $150) is no misnomer. The Portland landmark first opened its doors to hotel guests in 1894 and, during its heyday, played host to dignitaries and industrialists. In 1991, Kimpton Group bought the hotel and restored it to its former glory, and in 2015, brought the goods with a floor-to-ceiling makeover.
Book the hotel's own romance package for in-room bubbly and rose petal turn-down service, or create your own with a classic twist. Spend the morning treasure hunting the likes of Lulu's Vintage and Magpie (shopvintageportland.com). Grab lunch at Huber's Café (hubers.com), then head to the Oregon Historical Society for a behind-the-scenes Treasures of Vault exhibit (ohs.org, ends February 12). The circa 1907 Dan & Louis Oyster Bar Restaurant (danandlouis.com) has plenty of its own artifacts on display, but the oysters are the real attraction–and, of course, an aphrodisiac themselves. If your tastes are more turf than mollusks, book a table at Ringside Steakhouse (ringsidesteakhouse.com), where nothing says "I love you" like a 14 oz. dry-aged New York steak.
Best Oregon romantic getaway number 2: Wine Country, Spa Country
STAY: THE ALLISON INN & SPA, NEWBERG
DINE: The Inn's own Jory is worth the trip.



Who needs couple's therapy when you can have "Pinot Therapy," one of many Oregon-inspired spa treatments on the menu at The Allison Inn & Spa (theallison.com, rooms start at $305). When the eighty-five-room Newberg inn opened in 2009, it raised the bar for wine country retreats: gas fireplaces, original artwork and plush robes in every room, indoor swimming pool;,and world-class spa with twelve treatment rooms. If you prefer to drink your antioxidants, there is ample opportunity for wine tasting with many of Oregon's top winemakers within a short drive. Pair your Pinot with creative cuisine at such foodie havens as Recipe (recipenewbergor.com), or Jory, the inn's own acclaimed dining room. This is the ultimate Oregon romantic getaway.
Best Oregon romantic getaway number 3: Ski Bumming in Style
---
STAY: LAVABELLES, BEND
WHEN: Time your visit with WinterFest February 17 and 18 for snow sculptures, ice carvings, live music and more.
Experience Bend like a local—or if you're local, live it up like a tourist—by hanging your beanie at a historic Lavabelles cottage (lavabelles.com, rates start at $150 a night). If it's just the two of you, opt for "Laverne," a retro chic one-bedroom with a sleeping loft and mountain views. It's stumbling distance from the shops and restaurants downtown, and it's an easy walk to the Old Mill District—which plays host to Bend's annual WinterFest in February. After a day on the slopes or in the backcountry, head to McMenamins for a dip in the Turkish soaking pool or lounge seating in the movie theater. Passes come with the rental. There are plenty of things to do, see, eat and drink in Bend, but there's no shame in kicking back and doing nothing. Before you get too cozy, fill your growler at Boneyard Brewery a few blocks away on Lake Place.
Best Oregon romantic getaway number 4: Ski-In, Ski-Out, Make Out
---
STAY: TIMBERLINE LODGE, GOVERNMENT CAMP
DINE: Reserve a table at Timberline's Cascade Dining Room or splurge with a Winemaker's Dinner at Silcox Hut.
 With its rough-cut stones and exposed timbers, the Timberline Lodge (timberlinelodge.com) is a special place any time of the year. In the winter, with fireplaces ablaze and skiing just out the door, this 1930s lodge is nothing short of magical. For a real treat, time your visit with one of Timberline's monthly Winemaker's Dinners at the Silcox Hut ($175 per person). You'll travel by Snowcat to the historic annex for a six-course dinner paired with Oregon wine and hosted by the winemakers.
Best Oregon romantic getaway number 5: Sweet and Salty in Astoria
---
STAY: CANNERY PIER HOTEL, ASTORIA
DINE: Baked Alaska, Bridgewater Bistro or Clemente's for fine coastal cuisine
Grand Victorian homes, fishermen tales and sweeping views of the Columbia River—Astoria can make poets out of cynics. Get away and get sentimental at Cannery Pier Hotel (cannerypierhotel.com), a luxury hotel built on the 100-year-old pier that was once the site of the Union Fish Cannery. While there's plenty to see and do in Astoria, it's awfully tempting to hang the "Do Not Disturb" sign and pass the time in front of your en-suite fireplace or, weather permitting, on your private balcony. When you tire of gazing into one another's eyes, watch the massive ships pass under the towering Astoria-Megler Bridge. After wine and hors d'ouvres in the lobby, hop in the back of the hotel's 1939 Buick or 1946 Cadillac for a chauffeured drive downtown to dinner.



Best Oregon romantic getaway number 6: Bad Weather, All the Better
---
STAY: THE OCEAN LODGE, CANNON BEACH
WHEN: March 8-11 for Cannon Beach's Wine & Culinary Festival, savorcannonbeach.com
The best days at the beach aren't necessarily blue skies and balmy. In fact, Oregon's coast comes alive in the winter months when big storms blow in, bringing fifty-mile-an-hour winds and fortyfoot waves. To feel the full thrust of Mother Nature, put on your rain gear and head for the hills. Ecola State Park just north of Cannon Beach offers several viewpoints along its rocky shoreline. When the weather isn't so treacherous, explore the many miles of undulating–and often muddy – trails that stretch all the way to Seaside.
A wrap-around veranda, two-story fireplace, oceanfront rooms and sweeping views of Haystack Rock make The Ocean Lodge (theoceanlodge.com) an ideal place to admire the storms without mussing your hair. For dinner and a show, reserve two seats at EVOO (evoo.biz). Chefs Bob Neroni and Lenore Emery prepare a gourmet meal with wine pairings while you watch, learn and taste.
Best Oregon romantic getaway number 7: The Gorge Deluxe
---
STAY: COLUMBIA CLIFF VILLAS, HOOD RIVER
DINE: Double Mountain Brewery for truffle pizza; Celilo for a farm-to-table feast
There are plenty of great ways to soak in the wonder of the Columbia River Gorge. But a weekend at the Columbia Cliff Villas (columbiacliffvillas.com) is definitely top of the list. Think private veranda perched high above the river, cocktail in hand, soulmate by your side. Even in the blustery winter months, it's tough to tear yourself away from the view. The accommodations aren't too shabby either. Located adjacent to the grounds of the historic Columbia Gorge Hotel, these luxurious suites and apartments meld modern amenities with Old World charm. If it weren't for the intrepid windsurfers in the Columbia, you might think you exited I-84 and arrived in Tuscany.
Should you choose to leave your villa, there's plenty to do within a thirty-minute drive. Pick up pastries and coffee at Doppio (doppiocoffeelounge.com), then drive across the river to the Klickitat River trail (klickitat-trail.org), a thirty-mile former railroad line that's great for spotting wildlife and getting your mountain biking, hiking or trailrunning fix when higher elevation trails are under snow. After a morning of do-gooding, head to downtown Hood River to shop and taste your way through the afternoon. Start at Double Mountain (doublemountainbrewery.com) for craft beer and pizza. From there, you can hit the Full Sail Brewing Co. brewery tour (fullsailbrewing.com), stop by the Naked Winery tasting room on 2nd Street (nakedwinery.com) and meander in and out of the shops on Oak Street. Don't leave Hood River without a meal at Celilo Restaurant (celilorestaurant.com)—denying your sweetheart such delicacies as house-made pasta topped with braised pork Sugo is grounds for divorce.
Best Oregon romantic getaway number 8: Ashland's Theatre district
---
STAY: ASHLAND SPRINGS HOTEL, ASHLAND
WHEN: Oregon Shakespeare Festival begins previews of its 2012 season on February 17 and opens the following weekend.
The Montagues and the Capulets return to the Oregon Shakespeare Festival for the 2012 season, only this time the tragic love story is set in 1840s California. Romeo and Juliet is just one of several love-focused productions opening in late February. There's also the world premiere of Tony award winning director Mary Zimmerman's The White Snake, as well as Libby Appel's sexy rendition of Chekhov's The Seagull. One block from the festival, the gorgeously-restored 1925 Ashland Springs Hotel (ashlandspringshotel.com) is perfectly situated for a weekend at the theater. After a Euro breakfast in the hotel mezzanine, take a walk through Lithia Park and follow Ashland Creek up, up, up. Then take advantage of the many couples' packages at the Waterstone Spa (waterstonespa.com) across the street. For a pre-theater nibble, try the house charcuterie, artisan cheeses and winter squash risotto fritters at the hotel's Larks restaurant.
Best Oregon romantic getaway number 10: Tiny Town with a Big Heart
---
STAY: ELAN GUEST SUITES, JACKSONVILLE
DINE: Stock up on gourmet goodies at Jacksonville Mercantile, or get a table for two at Gogi's Restaurant.
Jacksonville is only a twenty minute drive from Ashland, but the experience promises to be very different. The tiny city was deemed a National Historic Landmark in 1966, with more than 100 buildings protected for posterity. Download a free audio tour from the chamber of commerce (jacksonvilleoregon.org), and impress your sweetie with your historical aptitude. Jacksonville's Forest Park (jvwoodlands.org), just one mile west of downtown, has more than fifteen miles of trails winding past creeks and the remains of old gold mines.
The city is also a nice jumping-off point for the Applegate Valley Wine Trail (applegatewinetrail.com), which starts near Ruch and follows the Applegate River west toward Grants Pass, taking you past more than a dozen wineries serving warmer climate varietals.
Pick up a couple of your favorite bottles, then swing by the Jacksonville Mercantile (jacksonvillemercantile.com) to stock up for a private picnic at the oh-so-stylish Elan Guest Suites (elanguestsuites.com, suites start at $180). The boutique hotel's three suites feature original art from local painters, fully-equipped kitchens and all the technological bells and whistles you need to listen to your favorite tunes or cozy up with a good movie. 



Best Oregon romantic getaway number 10: Nest in the Northeast
---
STAY: POCKET HOUSE OR ECOHUIS, PORTLAND
DINE: Any place serving fresh, seasonal and local cuisine
While there's plenty to be smitten about in downtown Portland, an eco-minded vacation rental in Northeast Portland is the best way to enjoy lazy mornings and intimate evenings while getting to know Portland's quirkier side. Built in 2010 using reclaimed materials, soy-based foam insulation and low-VOC paints, the one-bedroom Pocket House (pockethousepdx.com) near Mississippi Avenue has all the creature comforts you'd want for a weekend getaway. Rates start at $130 a night; teachers and nonprofit employees get a 10 percent discount. Need your space? Designer Michelle Ruber and her Dutch craftsman husband, Klaas, showcase their knack for clever earth-friendly remodels in the three bedroom "Ecohuis" near Alberta Street. The Mid-century style house melds clean lines with clever touches, making for a great stay, not to mention design ideas to bring you back to your own"huis." Rates start at $215 a night.
A better-than-typical day in Northeast Portland might start with a leisurely locavore's brunch at Tasty n Sons (tastynsons.com). Plot your next meal while strolling along Mississippi Avenue (mississippiave.com), eventually working your way north and then east to the heart of the Alberta Arts District. Warm up with a hot stone massage at ZenSpace (zenspace.info) or hot cocoa from Random Order (randomordercoffee.com). When dinner beckons, you'll find no shortage of options for fresh, local cuisine. Ned Ludd (nedluddpdx.com) has perfected the art of wood-fired fare with a menu that's always changing. Natural Selection (naturalselectionpdx.com) serves up vegetarian dishes that will win over even die-hard carnivores. Of course, with so many artisan food shops in the neighborhood, dining in is just as appealing. Pick up wine, cheese, fresh pasta and other gourmet essentials at Pasta Works (pastaworks.com), then top it off with tarts and tortes from Pix Patisserie (pixpatisserie.com).
Check out our list of the best Oregon Winter Getaways
Here's our top romantic trips for seeing the state's natural wonders